West Hollywood has identified more than 800 buildings that could be at risk of damage or collapse in a major earthquake, part of a comprehensive effort to inventory them and require retrofits.
About 90% of the 821 buildings on the list are thought to be wood-frame structures, such as apartments with carports on the ground floor. The rest are believed to be concrete or steel. Officials emphasized that properties on the list are not necessarily unsafe, and that further study will be required to determine whether retrofitting is needed.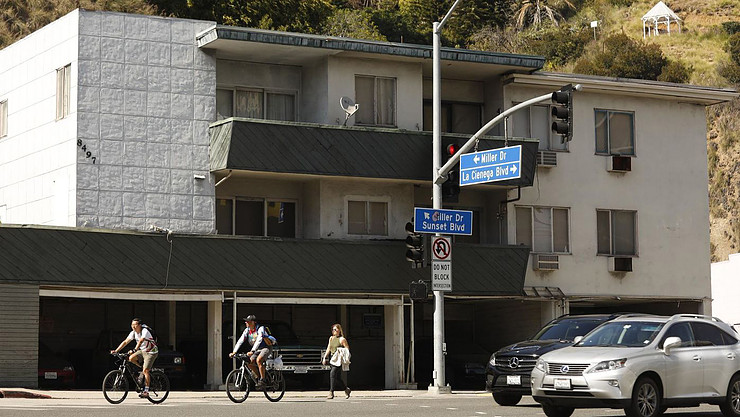 West Hollywood is one of several California cities attempting to strengthen buildings before the next major temblor, joining Santa Monica and Los Angeles among others. The Hollywood fault runs along the city's famed Sunset Strip, and buildings listed as needing further study include landmark hotels like the Andaz West Hollywood, Mondrian, Standard and Sunset Tower.
City officials say the mandatory retrofit law is needed not only to protect those in West Hollywood's apartments, offices and hotels, but also to keep rent-controlled affordable housing from being destroyed when the next earthquake strikes.
Affordable housing is central to the identity of West Hollywood, which became its own city in 1984 on promises to stabilize rents. About 78% of West Hollywood's residents live in apartments, most of them rent controlled, said Mayor Pro Tempore John Duran.
"One good shaker without seismic reinforcements could bring many of those buildings into being red-tagged and having to be demolished — thus wiping out a good portion of our affordable housing stock," Duran said. "To me, this is about infrastructure repair and maintenance.
"We could see a massive overturn of many of our longtime residents if our buildings are not retrofitted," Duran said.
The retrofit ordinance passed by the City Council last year was not without controversy. Condominium owners organized in opposition, and elected leaders eventually agreed to exempt concrete and steel condominiums from the mandatory retrofit law.
Nevertheless, West Hollywood's move to mandate retrofits of wood, concrete and steel buildings was seen as a milestone in Southern California's efforts to begin reinforcing some of the region's most vulnerable building types.
The city hired a structural engineering firm, Degenkolb Engineers, to conduct a sidewalk survey of possibly vulnerable structures and, in consultation with city records, create a list of buildings that would need to be studied further, according to city spokeswoman Lisa Belsanti.
After receiving a letter from the city, owners will have a certain amount of time, depending on the building type, to submit a report that will help determine whether a retrofit is called for — or to dispute a structure's initial listing by proving, for instance, that it has already been retrofitted or is of a type not covered under the law. Owners of such structures will have deadlines on when they must file retrofit plans, begin construction and complete it.
The possibly vulnerable buildings on West Hollywood's list blanket the nearly 2-square-mile city, from its vibrant Sunset Strip to its quieter east side.
According to the data, 738 are thought to be wood-frame buildings with a "soft-story" that can buckle when shaken — vulnerable because upper floors rest on a flimsy ground story, like those with carports held up by thin poles. The average wooden soft-story building in West Hollywood has about 10 residential units.
During the 1994 Northridge earthquake, 16 people died on the ground story when such an apartment complex collapsed. About 200 more apartments of the same style were damaged or destroyed.
West Hollywood also reported 27 concrete buildings and 16 steel buildings that will need further study, and 40 more of an unconfirmed type that may be either concrete or steel.
The collapse of just one large steel or concrete building potentially could result in a death toll larger than any seen in a California earthquake since the great 1906 San Francisco earthquake.
Past quakes have shown the vulnerability of concrete structures.
The Sylmar earthquake in 1971 brought down hospitals, including the aged Veterans Administration Hospital in San Fernando and the then 5-month-old Olive View Medical Center in Sylmar, killing 52 people. Brittle concrete buildings have also come crashing down in earthquakes around the world. In Mexico City last September, the collapse of the Enrique Rebsamen school killed 19 students and seven adults; a seven-story office building that pancaked killed 49.
Video captured during that quake showed how a five-story concrete building, with a soft-story on the ground floor, collapsed catastrophically when shaken.
Some older concrete buildings are now known to have a key flaw — a lack of enough steel reinforcing bars in the right configuration to prevent concrete from exploding out of columns when shaken. The defect remains in thousands of California buildings, structural engineers say, and most cities — with Los Angeles and Santa Monica as exceptions — do not require them to be retrofitted.
A certain class of steel buildings constructed before the 1994 Northridge earthquake also is thought to be potentially vulnerable; the U.S. Geological Survey has said it is plausible that five so-called steel moment frame buildings could come tumbling down across Southern California in a hypothetical magnitude 7.8 earthquake on the San Andreas fault, killing more than 400 people. In the Northridge quake, a steel moment frame building housing the Automobile Club of Southern California in Santa Clarita came close to collapse.
Once West Hollywood sends notices, owners will have one year to submit a screening report to determine whether seismic strengthening is needed and five years to complete a retrofit of a wood-frame soft-story building, with the city prioritizing apartments with 16 or more units and buildings with three or more stories. Concrete and steel buildings will have 20 years to complete a full retrofit, although major deficiencies will need to be identified in an engineering report filed with the city within three years and corrected within 10 years.
The city estimates that most soft-story wood apartment retrofits will cost between $40,000 and $160,000, while the average retrofit costs for concrete and steel buildings could vary between $50 to $100 per square foot.
West Hollywood still needs to work out some details, such as who will pay for retrofits.
Duran said some of the city's lowest income tenants would be hard-pressed to pay more in rent, while some property owners say they're already burdened by rent control and don't think they can turn a fair profit. The city needs to find an approach, he said, that will protect vulnerable tenants without causing property owners to get out of the business. Under the Ellis Act, people may be evicted from rent-controlled buildings if the owner decides to tear down a building or convert the apartments to condos.
Duran said he has encountered some younger tenants who have voiced opposition to paying for seismic upgrades, to which he responds: "You've never experienced an earthquake in your life, have you? Once you go through one big one, you learn to revere them very quickly.
"I remind people — if you want evidence we're in earthquake country, look at the Sunset Strip," Duran said. "The reason those buildings are there with the beautiful view is because we sit on an earthquake fault."
A link to West Hollywood's list of addresses can be found at www.weho.org/seismic, by clicking on the link to "visual survey of properties subject to the seismic retrofit ordinances."